Soil Remediation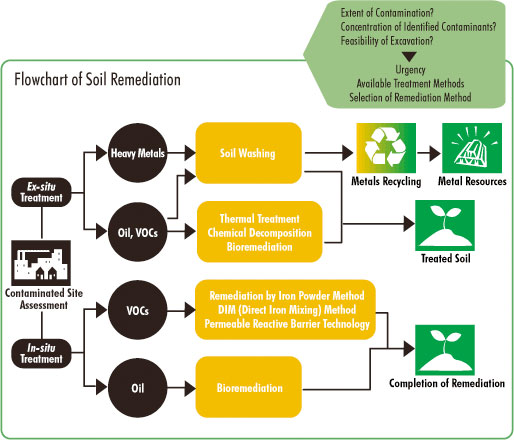 Flow Diagram of Soil Investigation (Detail)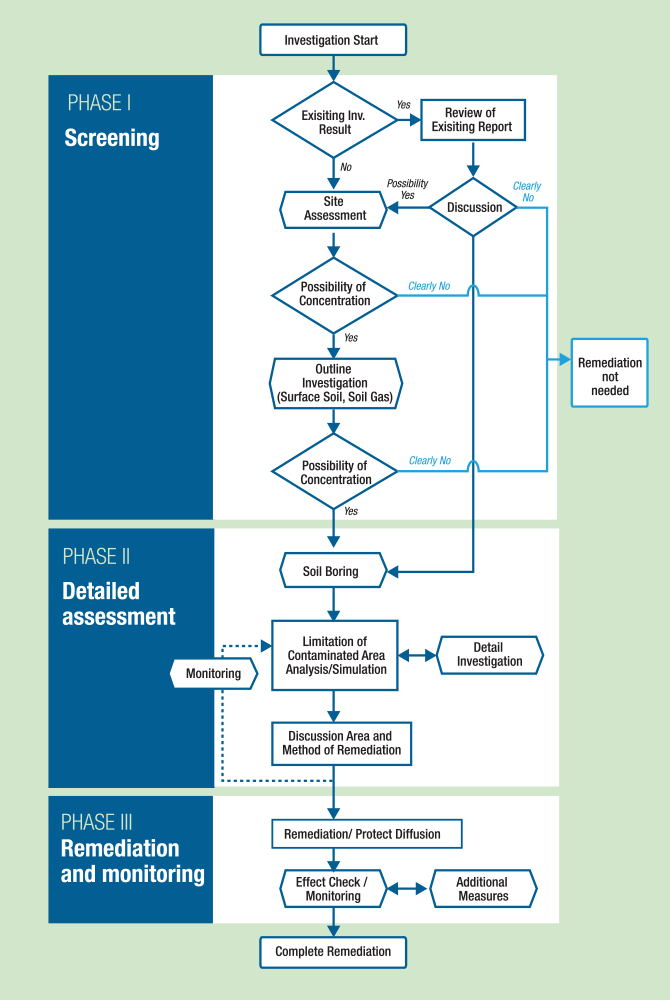 PHASE 1
Investigation
Buying and selling of the land
Environmental due diligence
PHASE 2
Investigation
Buying and selling of the land
Environmental due diligence

Electromagnetic Survey
Measuring of soil conductivity
Sludge conductivity is lower than natural soil conductivity
Estimating distribution of sludge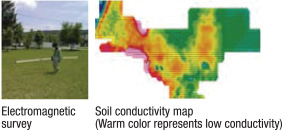 PHASE 3
Research and development of Remediation Methodology
Remediation planning and management
| Technology | Effect | Contaminant |
| --- | --- | --- |
| Thermal Decomposition | Decompose | VOCs, Oil, Pesticides |
| Thermal Desorption | Remove | VOCs, Hg |
| Soil Washing | Remove | Heavy metals, Oil |
| Chemical Decomposition | Decompose | VOCs, Oil |
| Bioremediation | Decompose | VOCs, Oil |
Soil Washing removes heavy metals from contaminated soil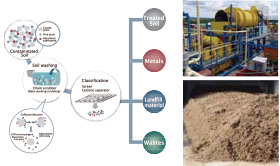 Zero Valent Iron decomposes chlorinated VOCs in soil and groundwater
VOCs are decomposed within a few months after mixture of iron powder.
PRB (Permeable Reactive Barrier) with zero valent iron granular decomposes VOCs in groundwater.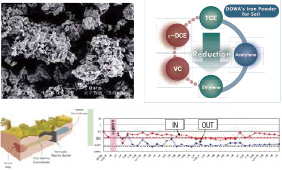 Oxidation (Chemical Decomposition)
Oxidative agent (such as hydrogen peroxide) or micro babble with ozone is injected or mixed into contaminated soil and groundwater.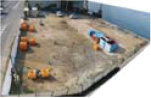 Aerobic Bioremediation
Aerobic bioremediation is applied to oil contamination. Land farming method is effective on a large scale site.
It takes a few months to complete a batch of remediation.

Anaerobic Bioremediation
Anaerobic bioremediation is applied to relatively low concentration groundwater contamination by injecting bio-activating reagent.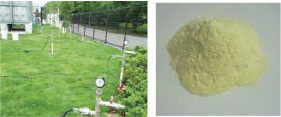 Pump & Treat for Groundwater
Pump & treat is used at contamination source area or site boundary to prevent migration of contaminated groundwater.

Framework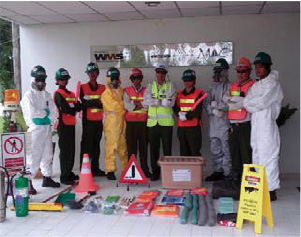 Thailand, Indonesia, Singapore
Work is managed by resident engineers and Japanese experts.
Other countries
Work is managed by Japanese experts.
Achievements
We have investigated and remediated in over 80 countries.