News Release
DOWA and Akita University Succeed in Recycling Cathode Material from Used Lithium-ion Batteries
DOWA ECO-SYSTEM CO., LTD. (14-1 Sotokanda 4-Chome, Chiyoda-ku, Tokyo; Capital: 1 billion yen; President: YANAI Yasuharu), a subsidiary of DOWA HOLDINGS CO., LTD. (same location; Capital: 36.4 billion yen; President: SEKIGUCHI Akira), and research groups at Akita University (President: YAMAMOTO Fumio) under specially appointed Assistant Professor ABE Yusuke at the Joint Research Center for Electric Architecture and Professor KUMAGAI Seiji in the Graduate School of Engineering Science succeeded in recycling cathode material from used automotive lithium-ion batteries which had been inactivated with heat treatment, through joint research using the Dowa Techno Fund(*).
Lithium-ion batteries (or LIB), which are expected to play a large role in efficient energy usage towards achieving a decarbonized society, have become increasingly widespread in various fields. To create a sustainable supply chain, it is necessary to build a recycling system where used LIB can be re-manufactured into new LIB, with a particular need for the recycling of rare metals such as cobalt and nickel used in cathode material.
DOWA ECO-SYSTEM and Akita University are advancing their practical research related to recycling of cathode material with the goal of expanding used LIB recycling in the future. For this research, we recreated cathode material using cathode material components (black mass) with some impurities collected from used LIB which had been inactivated with heat treatment. As a result, we were able to attain similar electrochemical performance to automotive LIB on the market in storage capacity and stability with repetitive charging.
Moving forward, we will work on developing a process to control impurity content more efficiently while learning more about the detailing relationship between impurities and battery performance.
The results of this research were published in the "Journal of Electroanalytical Chemistry" produced by the International Society of Electrochemistry on October 1st, and are expected to be presented at the 63rd Battery Symposium in Japan on November 9.
The DOWA Group and Akita University will continue their joint research towards creating a sustainable supply chain for LIB.
(*)Dowa Techno Fund:

DOWA HOLDINGS CO., LTD. offers financial and technological support for joint research and development in research with potential and advanced technology research at universities and public institutions, revitalizing and increasing the level of research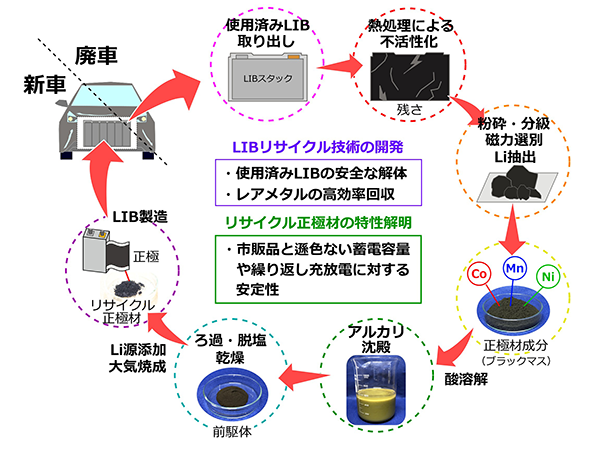 References
[Published Papers]
Journal : Journal of Electroanalytical Chemistry (published October 1, 2022)
Title : Electrochemical performance of LiNi1/3Co1/3Mn1/3O2 cathode recovered from pyrolysis residue of waste Li-ion batteries
Authors : ABE Yusuke , SAWA Kensuke, TOMIOKA Masahiro, WATANABE Ryoei, YODOSE Tatsuya , KUMAGAI Seiji (corresponding authors)
DOI : https://doi.org/10.1016/j.jelechem.2022.116761
[Overview of DOWA ECO-SYSTEM CO., LTD.]
Head office : 14-1 Sotokanda 4-chome, Chiyoda-ku, Tokyo
Representative : YANAI Yasuharu
Founded : October 2006
Capital : 1 billion yen
Number of employees : about 2,600 (DOWA ECO-SYSTEM consolidated, as of end of March 2022)
Shareholders : DOWA HOLDINGS CO., LTD. 100%
Business : Environment and Recycling business (Resource recycling, Waste treatment, Soil remediation, Logistics, Consulting)
Overview of Akita University
| | |
| --- | --- |
| Head office | 14-1 Sotokanda 4-chome, Chiyoda-ku, Tokyo |
| Representative | YANAI Yasuharu |
| Founded | October 2006 |
| Capital | 1 billion yen |
| Number of employees | about 2,600 (DOWA ECO-SYSTEM consolidated, as of end of March 2022) |
| Shareholders | DOWA HOLDINGS CO., LTD. 100% |
| Business | Environment and Recycling business (Resource recycling, Waste treatment, Soil remediation, Logistics, Consulting) |
Overview of Akita University
| | |
| --- | --- |
| Head office | 1-1 Tegatagakuen-machi, Akita-shi, Akita |
| President | YAMAMOTO Fumio |
| Founded | May 1949 |
| Details | Akita University website |
Past press releases related to this release