News Release
Railway transportation of hazardous waste materials commenced for the first time in Indonesian history
On August 9, 2018, PT Prasadha Pamunah Limbah Industri (PPLi) (West Java, the Republic of Indonesia) began transporting hazardous waste materials jointly with Indonesian Railway Company (PT. Kereta Api Indonesia (KAI)) and its operation subsidiary (PT. Kereta Api Logistik (KALOG)) for the first time in the country's history.
The railway route that started using this time covers the approximately 800 km from Kalimas Station, Surabaya, East Java to Nambo Station, Bogor, West Java. This is a breakthrough carried out by a waste management company like PPLi, where usually hazardous material was transported by truck to its main facility. The start of railway transportation between these two stations is expected to result in the following customer service improvements:
Shorter transportation time:
The transportation time, which used to take approximately three days on a truck from East Java area, will now be reduced to approximately one day.
Safety improvement:
Compared to truck transportation, railway transportation is more efficient at long distances and mass transportation, as well as stable transportation based on train diagram.
Greenhouse gas emissions reduction:
It is known that marine and railway transportation produces far less CO2 emissions per unit of cargo transported than truck transportation.
PPLi provides integrated environmental waste management services and operates the engineered landfill for hazardous waste that is only one permitted in Indonesia. The recent start of railway transportation has been achieved after four years of efforts, following test operations tenaciously conducted with cooperation from Indonesian regulatory agencies as well as KAI and KALOG. We would like to express our sincere appreciation to all who were involved.
DOWA ECO-SYSTEM is committed to continue making efforts to help solve a variety of environmental problems in Asia, which is rapidly developing.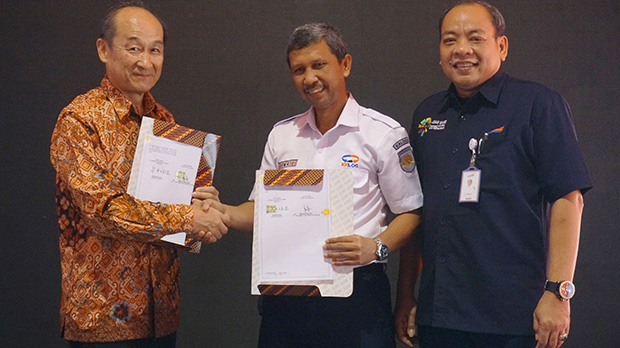 PPLi, KALOG and KAI as working partners for the transportation of hazardous waste were marked
by signing of the three year-agreement.
| | |
| --- | --- |
| | |
| Cargo containers for hazardous waste owned by PPLi | Kids invited to the launching event |