News Release
Opening Ceremony of TEC's New Incinerator
On 30/May/2017 (Tue), the opening ceremony of TEC's new incinerator was held in Singapore.
It was our great honor to have the presence of the Minister for the Environment and Water Resources, Mr. Masagos Zulkifli, Ambassador from Japan to Singapore, Mr. Kenji Shinoda, and many other guests to the ceremony.
Our new incinerator targets to treat solid hazardous waste, such as pharmaceutical and chemical complex hazardous waste.
DOWA ECO-SYSTEM CO., LTD. will strive to contribute to the environment in Singapore, utilizing our capabilities in the field of Hazardous Waste Treatment.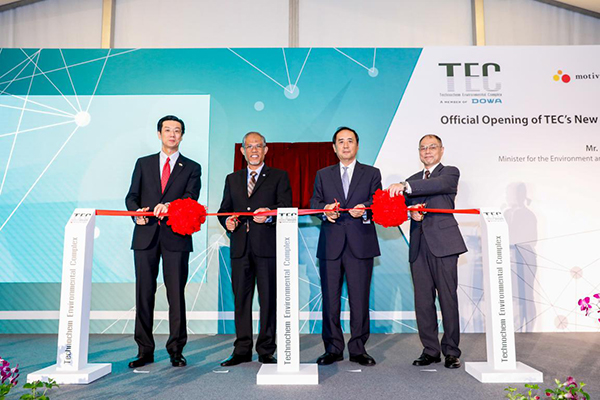 Ribbon cutting ceremony
(From left to right)
Mr. Kenji Shinoda, Ambassador from Japan to Singapore,
Mr. Masagos Zulkifli, The Minister for the Environment and Water Resources,
Masao Yamada, President and representative director, DOWA HOLDINGS
Akio Yosinari, President, TEC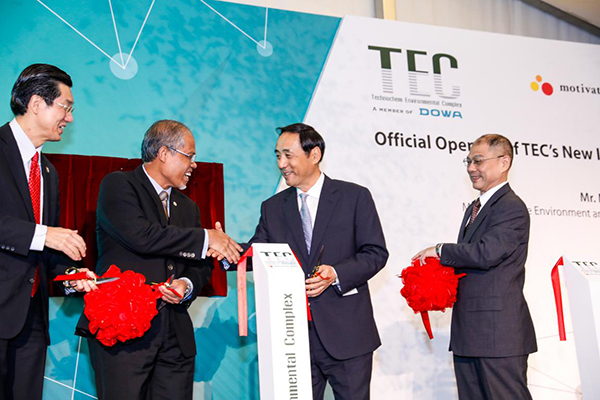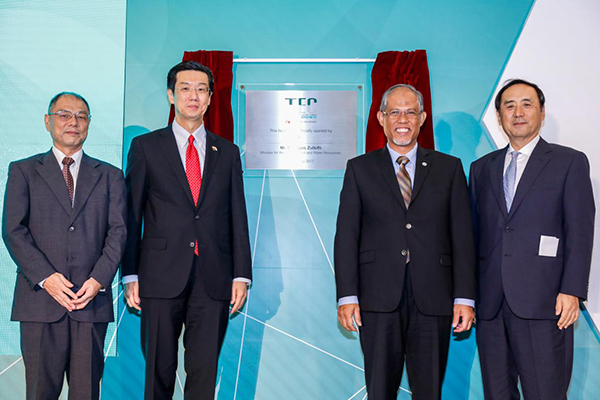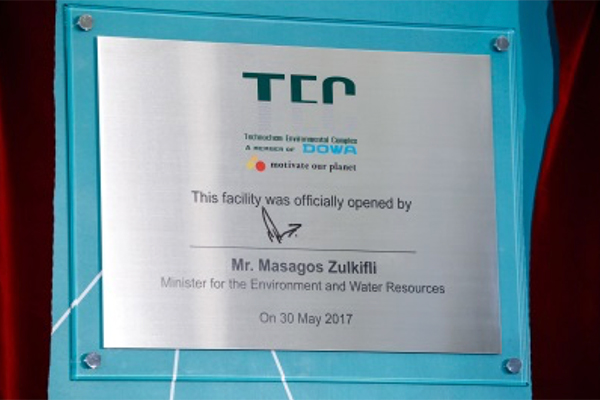 Nameplate of TEC's new incinerator signed by Mr. Masagos Zulkifli, The Minister for the Environment and Water Resources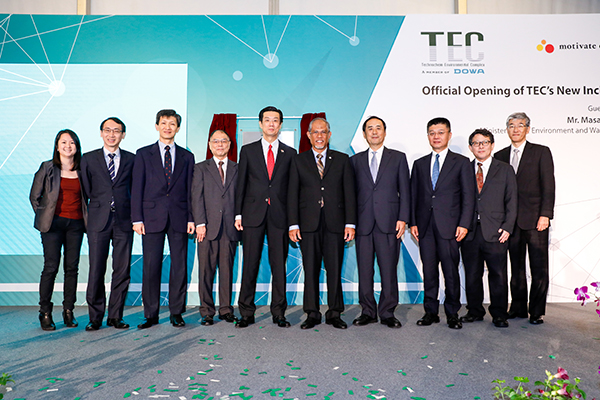 Our guests
(From left to right)
Ms. Glory Wee, Director, Aerospace, JTC
Mr. Goh Chee Kiong, Executive Director, EDB
Mr. Ronnie Tay, CEO, NEA
Akio Yosinari, President, TEC
Mr. Kenji Shinoda, Ambassador from Japan to Singapore
Mr. Masagos Zulkifli, The Minister for the Environment and Water Resources
Masao Yamada, President and representative director, DOWA HOLDINGS
Minoru Tobita, President and representative director, DOWA ECO-SYSTEM
Yasuharu Yanai, Director, DOWA ECO-SYSTEM
Kimio Matsumoto, Director, DOWA ECO-SYSTEM