News Release
Completion and Start of Operation of Myanmar's First Controlled Landfill Facility
DOWA ECO‐SYSTEM CO., LTD. (14‐1 Sotokanda, 4‐chome, Chiyoda‐ku, Tokyo; Capital: ¥1 billion; President: Kenichi Sasaki) starts operation of Myanmar's first controlled landfill facility at GOLDEN DOWA ECO-SYSTEM MYANMAR CO., LTD. (Thilawa Special Economic Zone of the Republic of the Union of Myanmar; Capital: US$ 36 million; President: Jun Yamamoto).
As progress is made in Myanmar's economic open‐door policy, there has been a rapid increase in the number of overseas companies entering the country. The government is now taking measures to promote the early development of core infrastructure elements, such as traffic systems and power grids. In the Thilawa Special Economic Zone, which is being jointly developed by Myanmar and Japan, the development of Phase 1 Area (211ha) was completed in June 2015. As a result of the steady rise of such industrial activities, the amount of industrial waste is expected to increase, and there is now a growing need for waste treatment capabilities to ensure that waste is properly treated.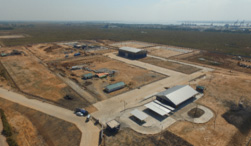 (View of the facility)
DOWA ECO‐SYSTEM CO., LTD. has been running its Environmental Management and Recycling businesses—which include waste treatment, metal recycling, and soil remediation businesses—in Southeast Asia (Indonesia, Thailand, Singapore) and China as well as Japan. Until now, Myanmar has not had any controlled landfill facilities that conformed to international technical guidelines*. The waste treatment business is an essential element of infrastructure for a variety of industries, particularly manufacturing. The Myanmar government and companies investing there have high hopes for this newly opened Myanmar facility, which is the first controlled landfill in the country. It will receive industrial waste from not only the Thilawa Special Economic Zone but also all over the country. Responding to the requests of discharge sources, in addition to controlled landfill of waste, the new company will provide comprehensive waste management services to cover the collection, transportation, intermediate treatment and recycling of waste according to its characteristics. Handling waste based on its properties, the company will satisfy the needs of different industries and help contribute to sustainable industrial development in Myanmar.
*Structural standards of the United States Environmental Protection Agency, US EPA
Taking advantage of DOWA's technologies and experience in Japan, Southeast Asia, and China, DOWA ECO-SYSTEM CO., LTD. will continue helping to solve the various environmental problems in Asian countries, which are expected to continue growing.
Outline of GOLDEN DOWA ECO-SYSTEM MYANMAR CO., LTD.
| | |
| --- | --- |
| Start of operation | January 2016 |
| Site area | About 420,000 Square meter |
| Landfill structure | Multiple water-impervious structure, semi-aerobic landfill |
| Landfill capacity | About 90,000 Cubic meter in Phase 1 |
| Targets to treat | Non-hazardous waste and hazardous waste |
News release(DOWA HOLDINGS CO., LTD.)
[Ref.] DOWA ECO-SYSTEM CO., LTD. bases in Asia